Proudly located at 1000 Veterans Blvd, Suite 301, ABC Solar NOLA seeks to design, supply, and help guide the installation by local contractors of solar electric and battery backup systems. ABC Solar was founded 22 years ago with the express mission of helping take America off-the-grid with solar and renewable energy systems.


Mel Leveque, ABC Solar NOLA CEO said, "I had solar on my home until "that" storm tore apart my roof. Today the original solar panels are back in place under the sun making energy."


Mel is a fixture in the New Orleans area with deep family and business ties. As a graduate of Tulane University School of Business, he brings advanced finance and marketing tools to ABC Solar NOLA.


The focus for ABC Solar NOLA is solar electric generation coupled with advanced storage systems. Experience has guided ABC Solar to choose Sol-Ark Hybrid Inverters coupled with Fortress Power battery packs. The combination has proven to be robust and expandable to run Air Conditioning and other power intense loads during blackouts.


The Sol-Ark 12KW inverters are native 208 or 240 volt and can be stacked in parallel to increase capabilities. The Fortress power eFlex 5.4kWh Battery or the eVault 18.5 kWh battery are also parallel capable that pushes available storage for emergencies.


"The other key design choice is operating at 48 volts dc for the batteries which allows safe adaptations during weather emergencies," explained ABC Solar founder Bradley Bartz. "Our clients are vested in their solar and battery systems and want to know how they operate and how to use the apps to manage them."


The market for solar energy in Louisiana may be the biggest in the South, they just don't know that yet. But, instead of speculation, some hard numbers are in order. According to Solar Energy Industries Association (SEIA) Louisiana has 202 megawatts of solar installed. That's enough to power 20,000 homes or less than half a percent of the state's electricity supply. As a consequence, Louisiana is ranked just 38th in the country for solar adoption.


There are over 1 million detached homes and 4.6 million citizens. So far, according to SEIA through Q4 2021 there are 18,580 solar installations in the state. That is .004 of the population (4 tenths of 1 percent) and at 1% of single-family homes.


Compared to California with 6.8 million single-family homes and 1,445,035 solar installations – a penetration rate of 21 percent of California's detached housing.


ABC Solar NOLA is built on 21 years of direct solar design, supply and installation experience with a team that has installed solar energy systems worldwide.


ABC Solar aims with every sale to provide the best possible customer experience with the "magic of solar" every time a new system is commissioned and turned on.


Turn On, Tune Up and Drop Off the Grid – Go Solar with ABC Solar NOLA.


ABC Solar was founded in 2000 in Torrance, California to design, supply and install solar electric grid-tie systems.

Related Links

ABC Solar NOLA

All About Solar Energy at SolarDaily.com


Thanks for being here;


We need your help. The SpaceDaily news network continues to grow but revenues have never been harder to maintain.

With the rise of Ad Blockers, and Facebook – our traditional revenue sources via quality network advertising continues to decline. And unlike so many other news sites, we don't have a paywall – with those annoying usernames and passwords.

Our news coverage takes time and effort to publish 365 days a year.

If you find our news sites informative and useful then please consider becoming a regular supporter or for now make a one off contribution.


SpaceDaily Contributor

$5 Billed Once
credit card or paypal



SpaceDaily Monthly Supporter
$5 Billed Monthly
paypal only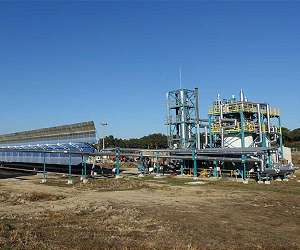 Salt makes solar thermal power more cost-effective

Evora. Portugal (SPX) Apr 29, 2022


Solar thermal power plants use concentrated sunlight to first generate heat and then electricity. They are already in use today in particularly sunny regions, such as Spain, the USA or Chile. To further advance this technology and make it more competitive, the German Aerospace Center, together with the Portuguese University of Evora and European industrial partners, has built and commissioned a unique test facility.

The Evora Molten Salt Platform (EMSP) is one of the world's first plants to use mo … read more