As climate change continues to present itself as the most pressing threat facing our planet, researchers push to find efficient and clean alternatives to fossil fuels. Foremost among this research is harnessing free energy from the sun. Doing this efficiently requires advanced knowledge of the qualities of materials used in the construction of solar cells.


In a new paper published in EPJ Plus, Maykel Courel from the Centro Universitario de los Valles (CUValles), Universidad de Guadalajara, Mexico, and co-authors, look at the limitations of the material antimony sulfide selenide, which has emerged as a potential candidate for solar cell fabrication.


A semiconductor, antimony sulfide selenide has been intensively studied by researchers working on thin-film solar cells, due to the fact that direct optical transitions result in the material possessing a high absorption coefficient. The material's application to devices that convert light into electricity using semiconducting materials is still in its early days, however.


Currently, the efficiency of this material is at a maximum of around 10 percent, well below 29 percent, the maximum efficiency expected for this type of technology.


The researchers set about testing the limiting factors that are affecting this efficiency, focusing on the effect of loss mechanisms on antimony sulfide selenide cells using an analytical model.


The team found that for typical parameters chosen for their simulations, electron-hole recombination in a substrate?-?known as bulk recombination?-?and interface recombination which happens when two semiconductor bandgaps have a staggered shape, are the main problems that degrade the device performance.


They suggest that materials scientists working on either the reduction in defects at interface or defects at bulk in antimony sulfide selenide devices would not be able to obtain efficiencies greater than 10 percent. On the other hand, with a carrier lifetime longer than 100 nanoseconds with a recombination speed lower than 1 centimetre per second efficiencies for such technology could top 14 percent.
Related Links

Centro Universitario de los Valles

All About Solar Energy at SolarDaily.com


Thanks for being here;


We need your help. The SpaceDaily news network continues to grow but revenues have never been harder to maintain.

With the rise of Ad Blockers, and Facebook – our traditional revenue sources via quality network advertising continues to decline. And unlike so many other news sites, we don't have a paywall – with those annoying usernames and passwords.

Our news coverage takes time and effort to publish 365 days a year.

If you find our news sites informative and useful then please consider becoming a regular supporter or for now make a one off contribution.


SpaceDaily Contributor

$5 Billed Once
credit card or paypal



SpaceDaily Monthly Supporter
$5 Billed Monthly
paypal only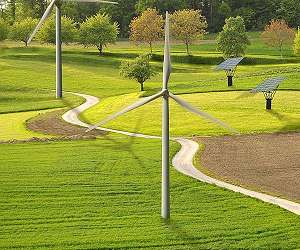 Climate-stricken world needs renewables Marshall Plan: UN chief

Paris (AFP) May 18, 2022


UN chief Antonio Guterres on Wednesday outlined what amounts to a global Marshall Plan for ushering in a world powered by renewable energy rather than coal, gas and oil.
To avoid catastrophic climate change, humanity must "end fossil fuel pollution and accelerate the renewable energy transition, before we incinerate our only home," he said in prerecorded remarks timed to coincide with the release of a major UN state-of-climate report.
Renewable technologies should be treated as freely available … read more