Paul Scott leads the pack with his speech prepared for Recharge and Renew 2021 with, "Why the internal combustion industry must die, and how we can kill it."


Paul gives the audience another reason to hate ICE: Internal Combustion Engines.


His much younger self was a key player in the hit movie Who Killed the Electric Car. Over the years Paul pushed global manufacturers to release new electric vehicles. In fact, the Nissan Leaf Electric Vehicle owes many of its branches of customers to Paul.


Recharge and Renew 2021 SolarDaily.com Conference dips its toes in the Pacific Ocean on October 28, 2021 at the world-famous cliff-side Terranea Resort in Rancho Palos Verdes.


R&R 2021 is seeking solar, battery and new technology whitepapers and speakers.


Enjoy a panel discussion about the next 20 years of solar energy based on the last 20 years. The focus really is "old tech" that is now ready for market. Ready from a technology standpoint, but more important is meeting market need.


R&R 2021 will webcast this event so all stakeholders can participate from anywhere. If Covid prevents our in person activity we will still persist!


Please email [email protected] or visit Recharge.SolarDaily.com and learn more.
Related Links

Recharge 2021

All About Solar Energy at SolarDaily.com


Thanks for being here;


We need your help. The SpaceDaily news network continues to grow but revenues have never been harder to maintain.

With the rise of Ad Blockers, and Facebook – our traditional revenue sources via quality network advertising continues to decline. And unlike so many other news sites, we don't have a paywall – with those annoying usernames and passwords.

Our news coverage takes time and effort to publish 365 days a year.

If you find our news sites informative and useful then please consider becoming a regular supporter or for now make a one off contribution.


SpaceDaily Contributor

$5 Billed Once
credit card or paypal



SpaceDaily Monthly Supporter
$5 Billed Monthly
paypal only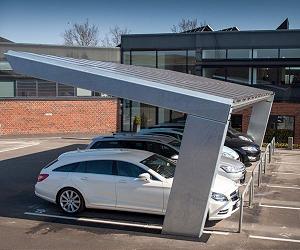 Solar awnings over parking lots help companies and customers

Houghton MI (SPX) Feb 12, 2021


The number of people who own electric vehicles (EVs) is increasing, but they face a conundrum: Unlike those who own gasoline-burning cars, EV owners can't just pop down to the corner gas station for a fill-up. Particularly in rural areas, charging stations can be few and far between.

Joshua Pearce, Richard Witte Endowed Professor of Materials Science and Engineering and professor of electrical and computer engineering at Michigan Technological University, hopes to change that.

In a model out … read more