China is scaling up distributed solar power capacity in a bid to push forward new energy development to achieve its carbon goals.


The newly installed capacity of distributed solar power increased 125 percent year-on-year to about 19.65 million kilowatts in the first half, taking up about two-thirds of China's total newly increased solar power capacity, the China Photovoltaic Industry Association said earlier last week.


The association said that distributed solar power has become a major force driving the installed capacity growth of solar power.


The accumulated installed capacity of distributed solar power reached about 130 million kW as of the end of June, taking up over one-third of the country's total, according to the CPIA.


Distributed solar power and concentrated solar power are two major types of solar power in China. The former refers to an approach to installing solar power facilities and generating power at or near where it will be used, such as on rooftops.


"Distributed solar power installations have fewer requirements on land and cost, compared with concentrated solar power which appears in large units and is usually deployed in massive land areas such as deserts," said Lin Boqiang, head of the China Institute for Studies in Energy Policy at Xiamen University.


"Compared with traditional fossil fuels like coal, distributed solar power is more environmentally friendly as it has no carbon emissions. Installing distributed solar power can also benefit households when they sell the power to electricity companies," Lin said.


According to the National Energy Administration, the growth of distributed solar power's installed capacity surpassed that of concentrated solar power for the first time in history last year and took up about 55 percent of China's total newly increased solar power installed capacity, indicating a trend that distributed solar power, especially those for family use, has become an important source in China's efforts to peak carbon emissions by 2030 and achieve carbon neutrality by 2060.


The increase in distributed solar power installed capacity also attracted large investment last year, which stood at about 109.5 billion yuan ($16.2 billion), according to a recent report by the China Renewable Energy Engineering Institute.


Rooftop solar power has two main types, which are building attached photovoltaic and building integrated photovoltaic (BIPV). According to the China BIPV Association, BIPV, which takes up a major part of China's rooftop solar power market, will have a market size valued at up to 40 billion yuan in 2025.


Rooftop solar power saw a surge in installations over the past few years under policy support. From 2017 to 2021, rooftop installations grew from 19.4 gigawatts to 27.3 GW, and may continue to grow, said Rystad Energy, a research company based in Oslo, Norway.


The company said China's surge of rooftop solar power installations has driven up the world's total rooftop solar capacity.


The rapid development of distributed solar power was also buoyed by government incentives, Lin said. A recent notice from the National Development and Reform Commission, the country's top economic regulator, has called for the promotion of low-carbon lifestyles, which advocates further developing distributed solar power such as rooftop solar power.


It marks the latest move from the government to support the industry's development, which followed a statement jointly released by the NDRC and the NEA earlier this year. The statement said that China planned to cover as many as 50 percent of its new buildings that are classified as public institutions with rooftop solar panels by 2025.


The statement also noted that China will actively promote rooftop solar power installation in rural areas and industrial parks.


Last year, China launched a trial program to promote the installation of rooftop solar systems in counties. By the end of last year, a total of 676 counties across 25 provincial-level regions had reported to the NEA of their corresponding trial projects.


"Compared with cities, China's rural areas have more spare spaces to install solar power systems at lower costs, such as residential home roofs, spare farmlands, and greenhouses. Developing distributed solar power in rural areas also offers residents extra earnings and helps reduce power expenses," said Lin.


Source: Xinhua News Agency
Related Links

Solar Energy News

All About Solar Energy at SolarDaily.com


Thanks for being here;


We need your help. The SpaceDaily news network continues to grow but revenues have never been harder to maintain.

With the rise of Ad Blockers, and Facebook – our traditional revenue sources via quality network advertising continues to decline. And unlike so many other news sites, we don't have a paywall – with those annoying usernames and passwords.

Our news coverage takes time and effort to publish 365 days a year.

If you find our news sites informative and useful then please consider becoming a regular supporter or for now make a one off contribution.


SpaceDaily Contributor

$5 Billed Once
credit card or paypal



SpaceDaily Monthly Supporter
$5 Billed Monthly
paypal only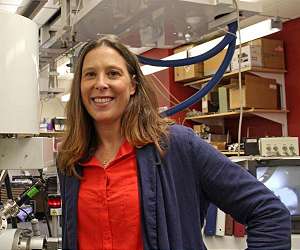 Ratcliff works to scale paper-thin solar technology

Tucson AZ (SPX) Jul 26, 2022


Using a combination of multiple energy sources, including solar, makes the nation's energy system more resilient. Solar energy provides about 3% of the country's electricity overall and about 9% of Arizona's, according to the U.S. Energy Information Administration.

The U.S. Department of Energy Solar Energy Technologies Office (SETO) selected University of Arizona chemical and environmental engineering associate professor Erin Ratcliff for a $300,000 grant to advance the near-term scalability of a … read more