China currently dominates global polysilicon production, responsible for over three-quarters of the world's supply of the key material needed to make solar panels. Solar experts advocate for a more resilient supply chain by moving production elsewhere, which could decrease the industry's carbon footprint and avoid companies in China that have been accused of using forced labor, according to a cover story in Chemical and Engineering News, an independent news outlet of the American Chemical Society.


Since 2014, China has invested more than $40 billion in solar manufacturing, about 15 times what companies in North America have invested, writes Associate Editor Matt Blois. The Chinese government offered loans, affordable land and cheap electricity to help spur this growth. Because the production is highly concentrated in one country, any supply chain disruptions, like an explosion at a Chinese plant in 2020, could cause major disruptions down the line.


Experts also estimate polysilicon made in the country is three times as carbon intensive as polysilicon made in other locations, since China gets most of its electricity from coal. And there are human rights concerns.


A recent report accuses four of the largest polysilicon makers in China's Xinjian Uyghur Autonomous Region of participating in a forced labor program operated by Chinese government. The companies have either denied these claims or declined to comment, but the evidence is strong enough such that the U.S. government has started enforcing a ban on products made in Xinjiang.


In response to supply concerns, the U.S. and Indian governments have already pledged billions of dollars for use by the solar industry. In the U.S., Hemlock Semiconductor and REC Silicon are planning to ramp up their polysilicon production.


Industry groups are hopeful the recently passed Inflation Reduction Act – which offers incentives for various parts of the solar panel supply chain – will boost solar production domestically and create a more resilient supply chain. However, the Inflation Reduction Act tax credits are limited to 10 years, so companies must act fast and use the momentum to build the infrastructure and ensure future access to clean energy.


Research Report:"The US solar industry has a supply problem"

Related Links

American Chemical Society

All About Solar Energy at SolarDaily.com


Thanks for being here;


We need your help. The SpaceDaily news network continues to grow but revenues have never been harder to maintain.

With the rise of Ad Blockers, and Facebook – our traditional revenue sources via quality network advertising continues to decline. And unlike so many other news sites, we don't have a paywall – with those annoying usernames and passwords.

Our news coverage takes time and effort to publish 365 days a year.

If you find our news sites informative and useful then please consider becoming a regular supporter or for now make a one off contribution.


SpaceDaily Contributor

$5 Billed Once
credit card or paypal



SpaceDaily Monthly Supporter
$5 Billed Monthly
paypal only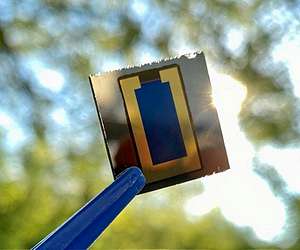 Research team undertakes study of perovskite photovoltaic modules

Beijing, China (SPX) Sep 16, 2022


A research team has conducted a review of recent advances in perovskite photovoltaic modules. Perovskite solar cells hold great promise for the next generation of photovoltaic technology. With this promising technology comes a need for the high-quality perovskite films for large-area photovoltaic modules. The team's study aids researchers who are working toward the further commercialization of perovskite photovoltaic modules.

The team, with researchers from Hangzhou Dianzi University, University o … read more