Arid areas gifting cities with energy, technological innovations helping keep facilities humming despite natural challenges


Technologies will power the next wave of wind and solar power development in China's desert areas amid higher requirements for uninterrupted power generation and transmission, facing challenges from extreme conditions such as high temperatures and blowing sand, experts said.


"We are deploying technological innovations to upgrade systems for equipment monitoring and inspection, as it is unlikely workers can carry out regular checks in such a big power plant under severe conditions," said An Bo, head of five photovoltaic power stations, as well as a facility responsible for connecting 26 PV stations to the grid.


The stations An manages were built by China Huadian Corp Ltd. They are about 27 kilometers from downtown Hami, Xinjiang Uygur autonomous region, and occupy 4.38 square kilometers.


"PV station installation requires areas with vast available empty spaces and high average solar radiation, making arid areas far from cities ideal locations. Some stations are located as far as about 200 km from downtown Hami," An said.


"However, installation, operation and maintenance of solar panels in these areas are not easy. For instance, stress from extreme weather conditions can trigger performance degradation. In addition, on-site 24/7 monitoring, cleaning, maintenance and security at desert stations present greater challenges for staff, so recruitment is difficult as few people are willing to work far away from home, stay at stations for weeks and even months on end, and spend hours commuting," he said.


An said frequent strong winds carrying sharp grains of sand can lead to sand accumulation on PV modules and even damage, which can cause difficulties in cleaning and maintenance tasks.


"In response, we have leveraged artificial intelligence to replace human staff for routine inspections. We have a digital platform that can receive notice in the event of short circuits or other malfunctions. The platform can also collect data regarding sand accumulation on PV modules and decide on the timing and frequency of cleanings that will keep costs to a minimum," he said.


Before taking up his current position in 2021, An was head of a wind farm in Hami.


"Similar to the PV station, strong winds and sandstorms can easily cause equipment degradation at wind farms, which can lead to insufficient power generation. Now many wind farms in Hami have adopted infrared and ultrasonic technologies on wind turbines to improve performance for better power generation efficiency," he said.


"It is becoming a trend for wind and solar equipment in desert areas to embrace cutting-edge technologies like AI and big data in equipment installment, maintenance and monitoring," An said.


Guo Dongliang, head of a PV station in Kashgar, Xinjiang, said the station has also adopted a smart maintenance system, and a video monitoring and alerting system for more efficient system inspections.


"We have a system, which is a virtual representation of PV equipment with real-time data update, simulation and machine learning to help staff conduct remote-controlled maintenance more precisely and efficiently," Guo said.


The growing use of high-tech new energy modalities has emerged alongside China's scaling up of new energy deployment in the Gobi Desert and other arid areas, a major step in the country's green transition campaign.


The first batch of wind and solar power projects announced in desert areas late last year accounts for 97 gigawatts in total. It is able to generate four times as much power as the Three Gorges Dam, according to BloombergNEF, a research institute covering energy, commodities and the digital industry.


According to a notice co-released by the National Development and Reform Commission-China's top economic regulator-and the National Energy Administration, about 40 percent of the first batch of projects are wind power generation projects, while about 60 percent are solar power generation projects. Most of the projects will be completed and connected to the grid in 2022 and 2023.


The second batch of wind and solar power projects, targeting at 455 GW, will also be located in desert areas, according to a package of policy measures aiming to stabilize the economy announced by the State Council in May.


The second batch of projects and related industries are expected to attract investment of up to 3 trillion yuan ($444.3 billion), it said.


"Development of clean energy projects in desert areas requires coordination of various factors including energy from natural resources like wind and solar, energy generated from fossil fuels like coal as a supplement, energy storage and power transmission," said Lin Boqiang, dean of the China Institute for Studies in Energy Policy at Xiamen University, Fujian province.


"Many projects in such areas also assume responsibilities like fighting desertification, improving local ecologies and the environment, as well as boosting the regional economy, which add to project difficulties," Lin said.


China aims to have its total installed capacity of wind and solar power exceed 1.2 billion kW by 2030, and a recently released statement from the NDRC and the NEA mapped out plans to achieve that goal.


In the first half, newly installed capacity of wind and solar power reached 340 million kW and 340 million kW, respectively, up 17.2 percent and 25.8 percent year-on-year, said the NEA.


With an increasingly high proportion of new energy in China's energy structure, it is getting harder for grids to respond to volatility in voltage and frequency disturbances. New technologies now offer solutions to tackle these challenges, and development of new energy storage systems is on the rise.


"The rollout of massive new energy projects in desert areas helps boost the development of pumped-storage hydroelectricity and battery energy storage systems to abate the fluctuating output from intermittent energy sources like solar and wind, and also helps provide better energy storage modalities," Lin said.


A balance is needed in production and consumption within a grid. In order for the grid to be stable, energy generated must be equal to the amount consumed. Traditional energy sources like coal and oil can easily achieve this goal because energy suppliers have synchronized generators through a scheduled and centralized power dispatch system.


"Unlike conventional energy sources, renewable energy such as wind and solar has rapid and random changes, which makes it an irregular and inconsistent source. When connecting to the grid, it can cause problems in power quality and dispatch control. Thus, intermittent smoothing approaches are important," said Yi Yuechun, deputy director-general of the China Renewable Energy Engineering Institute.


Facing increasing demand for the rapid development of new energy, development of power storage approaches like lithium-ion batteries and flow batteries are on the rise as supplements to traditional pumped-storage hydroelectricity, Zeng Ming, director of an energy internet research center of North China Electric Power University, told People's Daily.


In May, a flow battery project was officially put into operation in Jintan, Jiangsu province. When power consumption is lower than the amount generated by new energies, the excess power will be used to compress the air into a salt cavern. When electricity consumption is about to exceed the amount generated, the air will be released to generate power to meet demand.


The project, constructed and maintained by China Huaneng Group Co Ltd's Jiangsu branch, can provide 60,000 kW of peak-shaving capacity for local power grids after being put into operation and will increase peak-shaving electricity by about 100 million kilowatt-hours every year.


Another challenge that emerges in developing wind and solar power in arid areas is power transmission. At present, southern and eastern regions are areas that have the greatest demand for electricity, while arid areas in western and northern parts of China have the most abundant wind and solar resources.


Deploying ultra-high voltage power transmission is a way to remove transmission bottlenecks that limit the expansion of wind and solar capacity, as it can effectively reduce power losses, which are common when energy resources are far from primary load centers.


As of 2021, China had a total of 29 UHV transmission lines in operation, among which 13 are for alternating current and 16 are for direct current, according to a report of hxny.com, an energy news website.


State Grid Corp of China, transmitting power to 88 percent of China's total area, plans 24 new AC transmission lines and 14 DC transmission lines with a total investment of 380 billion yuan during the 14th Five-Year Plan period (2021-25).


The company plans to raise its power transmission capacity to 300 million kW by 2025, among which about half is expected to be new energy.
Related Links

Solar Energy News

All About Solar Energy at SolarDaily.com


Thanks for being here;


We need your help. The SpaceDaily news network continues to grow but revenues have never been harder to maintain.

With the rise of Ad Blockers, and Facebook – our traditional revenue sources via quality network advertising continues to decline. And unlike so many other news sites, we don't have a paywall – with those annoying usernames and passwords.

Our news coverage takes time and effort to publish 365 days a year.

If you find our news sites informative and useful then please consider becoming a regular supporter or for now make a one off contribution.


SpaceDaily Contributor

$5 Billed Once
credit card or paypal



SpaceDaily Monthly Supporter
$5 Billed Monthly
paypal only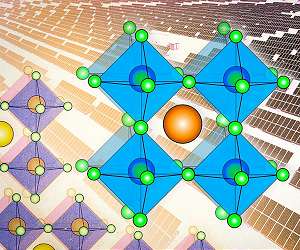 Explained: Why perovskites could take solar cells to new heights

Boston MA (SPX) Jul 17, 2022

Perovskites hold promise for creating solar panels that could be easily deposited onto most surfaces, including flexible and textured ones. These materials would also be lightweight, cheap to produce, and as efficient as today's leading photovoltaic materials, which are mainly silicon. They're the subject of increasing research and investment, but companies looking to harness their potential do have to address some remaining hurdles before perovskite-based solar cells can b … read more