The permanent rise of oxygen in the Earth's atmosphere, which fundamentally changed the subsequent nature of Earth's habitability, occurred much later than thought, according to new research.


And the study, from an international team led by the University of Leeds and including researchers from the University of California-Riverside, Harvard University, the University of Southern Denmark and the University of St Andrews, also provides an explanation for some of the most extreme climate episodes to have affected the Earth, when the planet was repeatedly covered with ice.


The first time oxygen was significantly present in the atmosphere was about 2.43 billion years ago, and this marks the start of the Great Oxidation Event – a pivotal period in Earth's history.


Although the Great Oxidation Event led to oxygen levels that were still much lower than today, it dramatically changed the chemical composition of the planet's surface and set the stage for the subsequent course of biological evolution on Earth, which ultimately led to a planet teaming with animal life.


By analysing rocks from South Africa, which were deposited in the ocean at the time of the Great Oxidation Event, the researchers discovered that early atmospheric oxygenation was short-lived, and oxygen did not become a permanent feature of the atmosphere until much later.


Professor Simon Poulton, of Leeds' School of Earth and Environment, led the research.


He said: "The Great Oxidation Event fundamentally changed Earth's environment and habitability. This early period of oxygenation was thought to have occurred between about 2.43 and 2.32 billion years ago.


"However, our research shows that, in fact, oxygenation of the atmosphere was highly unstable over a period of about 200 million years, with permanent atmospheric oxygenation occurring about 100 million years later that previously thought."


Their findings, published in the journal Nature, also suggest a direct link between fluctuations in atmospheric oxygen concentration and greenhouse gas concentrations.


Professor Andrey Bekker of the University of California-Riverside, who co-authored the study, said: "These findings help explain four widespread glaciations that occurred coincident with the Great Oxidation Event, some of which were likely to have covered the whole of the Earth in ice for millions of years.


"Our new data show that the permanent rise of oxygen actually occurred after the final major glaciation of the period and not before it, which had previously been a major puzzle in our understanding of links between early atmospheric oxygenation and intense climatic instability."


The research team has re-labelled this period the Great Oxidation Episode. It ushered in a 1.5 billion year period of subsequent climatic and environmental stability, which remained until a second major period of rising oxygen and climate instability at the end of the Precambrian period.


Professor David Johnston, a co-author from Harvard University said: "The rise of atmospheric oxygen was a key factor in Earth's habitability.


"Unravelling the history of atmospheric oxygenation ultimately allows us to understand how oxygen rose to levels that were sufficient to allow the evolution of animals.


"The Great Oxidation Episode, when atmospheric oxygen first rose to appreciable levels, represents a pivotal step in this history."


Professor Poulton added: "We cannot begin to understand the causes and consequences of atmospheric oxygenation, the most significant control on Earth's habitability, if we do not know when permanent atmospheric oxygenation actually occurred. Now at last we have that piece of the puzzle."


Research Report: A 200-million-year delay in permanent atmospheric oxygenation

Related Links

University Of Leeds

All About Solar Energy at SolarDaily.com


Thanks for being here;


We need your help. The SpaceDaily news network continues to grow but revenues have never been harder to maintain.

With the rise of Ad Blockers, and Facebook – our traditional revenue sources via quality network advertising continues to decline. And unlike so many other news sites, we don't have a paywall – with those annoying usernames and passwords.

Our news coverage takes time and effort to publish 365 days a year.

If you find our news sites informative and useful then please consider becoming a regular supporter or for now make a one off contribution.


SpaceDaily Contributor

$5 Billed Once
credit card or paypal



SpaceDaily Monthly Supporter
$5 Billed Monthly
paypal only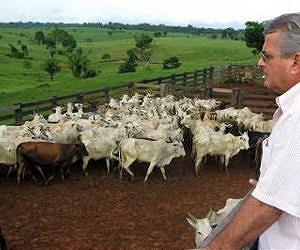 Beef-addicted Uruguay aiming to make farming greener

Cerro Pelado, Uruguay (AFP) March 25, 2021


Rotating cattle to keep the grass long, synching cows' pregnancies and improving bovine diet are just some of the tactics Uruguayan farmers are using to mitigate the impact of cattle on climate change.
There are four cows for each person in Uruguay, the South American country of 3.4 million people where agriculture accounts for 75 percent of greenhouse gas emissions.
A large part of that comes from the methane emitted by cattle, meaning Uruguay has no choice but to focus on livestock if it wants … read more