Geoforce, manufacturer of the world's toughest and most reliable high-value asset tracking systems, introduces its latest innovation – the next generation of solar-powered tracking technology, the Geoforce GT2. The GT2 leverages more than 14 years of IoT manufacturing leadership and "built tough" engineering innovation.


Just this month, the ultra-rugged and secure satellite-based version (GT2s) successfully completed its beta and field trials where it was evaluated on its ability to reliably perform in variable and low-light conditions in a variety of harsh, rugged environments and reliably connect via the Iridium Satellite Network.


The earliest working GT2s prototypes were shown to the US Army in April 2019 and deployed to support a demonstration for the 8th Army during TechNet Korea 2019. Since then, the GT2s has passed stringent environmental testing including temperature (-40C to +85C / -40F to +185F), water ingress (IP68/69), shock, thermal shock, operational vibration, salt fog, component reliability, and more to validate its ability to reliably operate to heavy industrial and military standards.


Engineered and certified to work in any environment, the GT2 is the latest addition to the proven GT family of high-value asset tracking devices. It is the first of its kind to deliver on the low-maintenance promise of solar-powered tracking with the rugged durability for which Geoforce is best known.


Each version of the GT2 is designed to provide asset visibility in the most challenging environments, even where sunlight is scarce. Its engineering is consistent with the Geoforce legacy for tough, safe, and reliable devices, offering confidence that data will be available when needed, autonomously, in all conditions, year in and year out.


"We believe that delivering a great solution to our customers starts with getting reliable data from the field – from any location, using any network type and in any environment," says James MacLean III, CEO of Geoforce. ""Solar powered devices have historically been unreliable.


The GT2 family solves the solar problem, providing unmatched reliability in a device built to withstand the beatings of the job-site with no maintenance for years. Hardware is hard, but we're really good at it – and that's a competitive advantage for us. Successful companies continue to innovate, and I am very proud of our team and what they've managed to accomplish with this new GT2 series of products. It's impressive."


Why the Geoforce GT2 is the Next Step in Solar-powered Asset Tracking

Solar-powered asset tracking devices have typically promised to provide a low-maintenance way to track and gain operating data from unpowered equipment in outdoor locations due to their ability to continually recharge their batteries.


However, solar-powered devices have demonstrated reliability issues in industrial settings from dirty or obstructed solar panels, failed packaging, water ingress, limited operating temperature and degraded battery capacity over time. For these reasons using solar power for asset tracking has been limited to highly selective commercial applications.


The GT2s solves these problems as it can operate reliably and provide data consistently in variable lighting conditions for up to 10 years through the use of an innovative dual-power system where solar rechargeable batteries are supplemented as needed by a separate high-capacity backup battery.
Related Links

Geoforce

All About Solar Energy at SolarDaily.com


Thanks for being here;


We need your help. The SpaceDaily news network continues to grow but revenues have never been harder to maintain.

With the rise of Ad Blockers, and Facebook – our traditional revenue sources via quality network advertising continues to decline. And unlike so many other news sites, we don't have a paywall – with those annoying usernames and passwords.

Our news coverage takes time and effort to publish 365 days a year.

If you find our news sites informative and useful then please consider becoming a regular supporter or for now make a one off contribution.


SpaceDaily Contributor

$5 Billed Once
credit card or paypal



SpaceDaily Monthly Supporter
$5 Billed Monthly
paypal only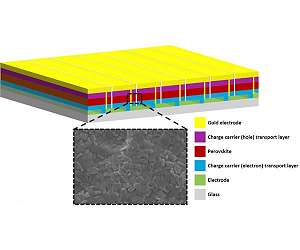 Scientists develop perovskite solar modules with greater size, power and stability

Onna, Japan (SPX) Jan 28, 2021


Researchers from the Okinawa Institute of Science and Technology Graduate University (OIST) have created perovskite solar modules with improved stability and efficiency by using a new fabrication technique that reduced defects. Their findings were published on the 25th January in Advanced Energy Materials.

Perovskites are one of the most promising materials for the next-generation of solar technology, soaring from efficiencies of 3.8% to 25.5% in slightly over a decade. Perovskite solar cells are … read more