Protons are the next big thing when it comes to fuel cell technology. The subatomic exchange produces power on a scale that challenges contemporary solid-state fuel cell technology, used to help power space shuttles. To realize the proton-based technology sooner, an international team of researchers have developed a hybrid material that effectively transports protons at high temperatures and humidity – two major challenges in past attempts.


The results were published on April 19 in ACS Applied Materials and Interfaces, a journal of the American Chemical Society.


The team, led by the University of Tokyo in Japan, focused on a material called polyoxometalates (POMs), which they previously fabricated into a composite with another polymer and compounds to help provide structural stability.


"POMs are attractive as building blocks for the design and synthesis of new materials with desirable properties and functions – they can efficiently transport protons, for example, but only at low temperatures and in low humidity," said paper author Masahiro Sadakane, professor in the Graduate School of Advanced Science and Engineering, Hiroshima University. "Unfortunately, a huge problem remained to be solved is that our composite decomposed at higher temperatures and humidity."


To solve this problem, the researchers investigated how to better tune the composite by encapsulating positively charged ions in the material's internal cavities. Positive ions, known as cations, help balance negatively charged ions, known as anions, to stabilize conductivity in a material.


They settled on incorporating europium, a metallic element that is solid at room temperature, into the material. Europium is particularly attractive to water molecules, which brings external oxygen into the material. Protons move through the system by attaching to the oxygen. The more oxygen, the more proton-conductive the process is.


"Our goal is to produce stable high proton-conductive materials," said paper author Sayaka Uchida, associate professor in the Department of Basic Science, School of Arts and Sciences, The University of Tokyo. "Through fine control of the components, we produced such a material."


The material continued to demonstrate high proton conductivity at temperatures of 368 degrees Kelvin (202.73 degrees Fahrenheit) and 50% humidity. The researchers plan to increase the stability and proton conductivity further.


"We plan to increase the stability and proton conductivity so that this material can be used as an electrolyte in fuel cells, enhancing their performance," Sadakane said. "This work could provide guidance for the design of solid-state proton conductors."
Related Links

Hiroshima University

Powering The World in the 21st Century at Energy-Daily.com


Thanks for being here;


We need your help. The SpaceDaily news network continues to grow but revenues have never been harder to maintain.

With the rise of Ad Blockers, and Facebook – our traditional revenue sources via quality network advertising continues to decline. And unlike so many other news sites, we don't have a paywall – with those annoying usernames and passwords.

Our news coverage takes time and effort to publish 365 days a year.

If you find our news sites informative and useful then please consider becoming a regular supporter or for now make a one off contribution.


SpaceDaily Contributor

$5 Billed Once
credit card or paypal



SpaceDaily Monthly Supporter
$5 Billed Monthly
paypal only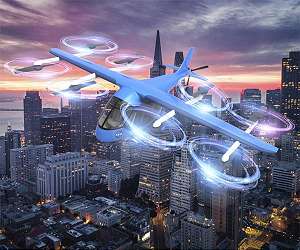 NASA seeks to create a better battery with SABERS

Cleveland OH (SPX) Apr 08, 2021


Dealing with battery issues on our phones, tablets, or laptops can be frustrating. Although batteries are everywhere in everyday life, many still suffer breakdowns and failures. The minor inconvenience of needing to charge them more often could even turn into costly repairs or buying a new device altogether. Batteries in larger electronics, like hoverboards or cars, can even catch fire.

Now, with increasing emphasis on aviation sustainability, interest in using batteries to partially or fully powe … read more