Spain's government adopted a series of measures Tuesday aimed at encouraging the public to install solar panels to generate their own electricity as the energy crisis sparked by Russia's Ukraine war grinds on.
"There is a lot of interest" in the idea of a household generating its own energy, which is "a very reasonable way to reduce our bills," Ecology Minister Teresa Ribera said after the weekly cabinet meeting.
Individual energy generation could be encouraged by means of "a simplified form of regulation," she said of measures which align with a European push to reduce the bloc's reliance on Russian gas.
The move simplifies the process for installing solar panels with a power generation capacity of up to 500 kilowatt/hours and seeks to encourage the installation of photovoltaic panels on public buildings.
It also seeks to drum up support for "collective power generation", backing the installation of solar panels on apartment blocks in a country where nearly two-thirds of the population live in flats.
Self-generated electricity has been growing rapidly in Spain since 2018, when Madrid abolished a decree requiring individuals who feed energy back into the grid to pay tax.
The tariff had long been decried by its opponents as a "tax on the sun".
According to Spanish solar power lobby UNEF, the installed capacity for individual energy generation through solar panels reached 1,203 megawatts in 2021, twice that of the 596 megawatts a year earlier.
And the figure is expected to be significantly higher in 2022.
The government's energy-saving plan seeks to cut Spain's natural gas consumption by up to 13.5 percent by March, and it also extends a price cap on gas used to produce electricity until December 2023 in order to alleviate household energy bills.
In April, Spain and Portugal reached an agreement with Brussels to separate electricity prices from the price of gas, allowing them to slash electricity prices.
Known as the "Iberian exception", the price cap came into effect in June.
Related Links

All About Solar Energy at SolarDaily.com


Thanks for being here;


We need your help. The SpaceDaily news network continues to grow but revenues have never been harder to maintain.

With the rise of Ad Blockers, and Facebook – our traditional revenue sources via quality network advertising continues to decline. And unlike so many other news sites, we don't have a paywall – with those annoying usernames and passwords.

Our news coverage takes time and effort to publish 365 days a year.

If you find our news sites informative and useful then please consider becoming a regular supporter or for now make a one off contribution.


SpaceDaily Contributor

$5 Billed Once
credit card or paypal



SpaceDaily Monthly Supporter
$5 Billed Monthly
paypal only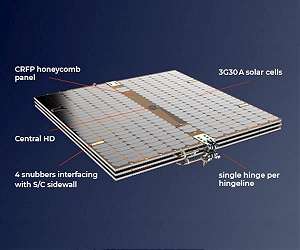 Second batch of Airbus' Sparkwing solar panels selected by Aerospacelab

Leiden, Netherlands (SPX) Oct 13, 2022


An additional six of Airbus' Sparkwing solar panels have been selected by Aerospacelab to accommodate their ramp up towards higher satellite production volumes. The panels are designed and produced at Airbus' Dutch site in Leiden. The ordered configuration, consisting of two single panel wings, each measuring 1070x570mm, is identical to the set recently delivered by Airbus for the first flight model of Aerospacelab's Very High Resolution (VHR) mission.

The stiffness of the solar panels concept for … read more