Maxeon Solar Technologies has executed an agreement to supply approximately one gigawatt of its high efficiency bifacial Performance 5 UPP solar panels for the construction of the Gemini solar plus storage power plant project located near Las Vegas, Nevada, United States (U.S.). The project is being built and will be owned and operated by Primergy Solar. The agreement calls for modules to be supplied over a four-quarter period starting in the second quarter of 2022; project completion is planned by the end of 2023.


"We are thrilled to select Maxeon Solar Technologies to supply solar modules for our Gemini solar and energy storage project in southern Nevada. Because of Maxeon's high module power output and demonstrated long-term reliability, we are able to deliver the optimal energy output to our customer while minimizing impacts to the desert ecosystem," said Ty Daul, Primergy CEO.


"The proximity of Maxeon's module factory to our project site was also a key consideration, offering significant logistical benefits, reduced supply chain carbon impacts, and ultimately reduced costs for energy consumers."


Gemini is planned to feature nearly 1.8 million shingled bifacial Performance 5 UPP solar modules that are engineered with materials innovations that range from encapsulants to aerospace-grade conductive adhesives. These materials protect cells and minimize power loss from exposure to the extreme environmental conditions in Nevada, including arid deserts and vast daily and seasonal temperature ranges. Maxeon's Performance 5 solar panels have a rated efficiency of up to 21.1%.


"We are pleased to supply Primergy as the module technology provider for this iconic project, which will be one of the largest operational solar power system in the U.S. when completed, delivering emission-free power for homes and businesses in Nevada," said Jeff Waters, CEO of Maxeon Solar Technologies.


"The size and importance of this project is yet another example of how our utility scale customers trust Maxeon for their solar power plants in the U.S. and around the world. By using our shingled technology, they benefit from the continuous innovation and the demonstrated reliability that we offer to the utility scale segment. With our value proposition of long-term high-output performance and field-proven durability, utility scale plant owners and operators can maximize power generation and benefit from predicable returns on their investment for 30 years or more."


The Gemini project is expected to provide a stable foundation to support the start-up and initial operation of Maxeon's new Performance line module capacity that will serve the U.S. solar power market. Using large-format G12 mono-PERC solar cells manufactured by Maxeon in Malaysia, and module assembly by Maxeon in Mexicali, Mexico, it is anticipated that this project will take a significant portion of the expected output of Maxeon's new capacity during the first year of operation.
Related Links

Maxeon Solar Technologies

All About Solar Energy at SolarDaily.com


Thanks for being here;


We need your help. The SpaceDaily news network continues to grow but revenues have never been harder to maintain.

With the rise of Ad Blockers, and Facebook – our traditional revenue sources via quality network advertising continues to decline. And unlike so many other news sites, we don't have a paywall – with those annoying usernames and passwords.

Our news coverage takes time and effort to publish 365 days a year.

If you find our news sites informative and useful then please consider becoming a regular supporter or for now make a one off contribution.


SpaceDaily Contributor

$5 Billed Once
credit card or paypal



SpaceDaily Monthly Supporter
$5 Billed Monthly
paypal only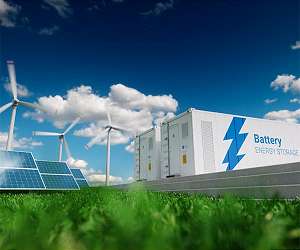 Renewable energy powers ahead in 2020: report

Paris (AFP) May 11, 2021


Renewable energy grew at its fastest rate in two decades, driven primarily by gains in China and wind power, the International Energy Agency said in a report Tuesday.
Around 280 gigawatts (GW) of electricity production capacity was added last year, a 45-percent increase from the amount added in 2019, according to the IEA.
That was the biggest gain since 1999, and equivalent to total power production capacity in the 10 Southeast Asian nations in the ASEAN trade bloc.
"The increase in 2020 is … read more