Momentus Inc. (NASDAQ: MNTS), a U.S. commercial space company that offers transportation and other in-space infrastructure services, has completed comprehensive ground testing of the solar arrays that will support its second demonstration mission scheduled to launch on the SpaceX Transporter-6 mission in December 2022.


The test campaign included functional, performance and environmental testing for sub-system components and the fully integrated solar arrays on the Vigoride Orbital Service Vehicle. The solar arrays are designed to deploy from Vigoride shortly after separation from the launch vehicle and track the sun throughout the mission to generate power.


"We expanded our solar array test campaign with the aim of ensuring that this key system for our mission will operate as intended," said Momentus Chief Executive Officer John Rood. "The Momentus team has been working closely with our solar array vendor that has been supporting our comprehensive testing campaign to prepare for our next flight. On our first Vigoride demonstration mission in May, we experienced an issue with a pin in a hold-down bracket not releasing. This enhanced test campaign is aimed at preventing similar issues in the future."


"We're excited about our next launch of the Vigoride vehicle targeted for December and the innovative customer payloads it will carry," said Rood. "Vigoride will carry a hosted payload for Caltech's first space solar power demonstration and deploy a satellite for Qosmosys that evokes the spirit of innovation from NASA's Voyager mission to explore the solar system. We also plan to fully test our Microwave Electrothermal Thruster propulsion system that uses water as a propellant in space."


Momentus plans to fly the next generation of its Vigoride Orbital Service Vehicle on the SpaceX Transporter-6 mission. The vehicle design has been modified to increase payload capacity and reduce launch loads transmitted to Momentus' customers. This version of Vigoride also introduces some modularity – particularly with the propulsion system, which should allow Momentus to more easily tailor the vehicle for each mission's unique transfer profile.
Related Links

Momentus

All About Solar Energy at SolarDaily.com


Thanks for being here;


We need your help. The SpaceDaily news network continues to grow but revenues have never been harder to maintain.

With the rise of Ad Blockers, and Facebook – our traditional revenue sources via quality network advertising continues to decline. And unlike so many other news sites, we don't have a paywall – with those annoying usernames and passwords.

Our news coverage takes time and effort to publish 365 days a year.

If you find our news sites informative and useful then please consider becoming a regular supporter or for now make a one off contribution.


SpaceDaily Contributor

$5 Billed Once
credit card or paypal



SpaceDaily Monthly Supporter
$5 Billed Monthly
paypal only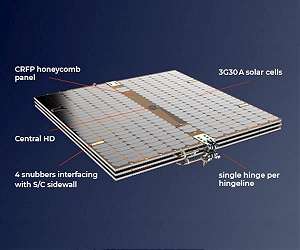 Second batch of Airbus' Sparkwing solar panels selected by Aerospacelab

Leiden, Netherlands (SPX) Oct 13, 2022


An additional six of Airbus' Sparkwing solar panels have been selected by Aerospacelab to accommodate their ramp up towards higher satellite production volumes. The panels are designed and produced at Airbus' Dutch site in Leiden. The ordered configuration, consisting of two single panel wings, each measuring 1070x570mm, is identical to the set recently delivered by Airbus for the first flight model of Aerospacelab's Very High Resolution (VHR) mission.

The stiffness of the solar panels concept for … read more