While electric vehicles have reaped the rewards of new high-energy lithium-ion batteries and rapid charging technology, challenges remain.


For example, although cars can cover longer distances between charges, and battery charging times have reduced, the lifespan of those batteries has also decreased, and low heat dissipation efficiency has led to safety issues.


Researchers from the US and China set out to find an economic but efficient battery thermal management strategy to keep battery temperatures within a safe range. In a study, published in KeAi journal Green Energy and Environment, they shared their findings – a 3D, interconnected, thermally-conductive boron nitride network that greatly improves thermal conductivity compared to random distribution.


Study co-author, Professor Bing Zhang of China's Zhejiang University, explains: "We designed a three-dimensional (3D) network of boron nitride, and systematically studied its effect on the thermal management performance of power cells.


"What we found is that the hexagonal boron nitride thermal network (h-BN) constructed by the ice template method with varying temperature gradients showed structural differences in different directions. Generally, structure determines performance, and different structures in different directions means a greater spread of performance. And by creating a composite with paraffin (h-BN/PW), we could achieve excellent anti-leakage performance and ultra-fast heat dissipation performance in lithium-ion batteries."


He adds: "Our results showed that the maximum surface temperature of the battery with continuous charge and discharge at 2-5 C was reduced by 6.9C. We think that this demonstrates the great potential of this process for application in battery thermal management systems." (sic)


Research Report: "Ultrafast battery heat dissipation enabled by highly ordered and interconnected hexagonal boron nitride thermal conductive composites"

Related Links

Zhejiang University

Powering The World in the 21st Century at Energy-Daily.com


Thanks for being here;


We need your help. The SpaceDaily news network continues to grow but revenues have never been harder to maintain.

With the rise of Ad Blockers, and Facebook – our traditional revenue sources via quality network advertising continues to decline. And unlike so many other news sites, we don't have a paywall – with those annoying usernames and passwords.

Our news coverage takes time and effort to publish 365 days a year.

If you find our news sites informative and useful then please consider becoming a regular supporter or for now make a one off contribution.


SpaceDaily Contributor

$5 Billed Once
credit card or paypal



SpaceDaily Monthly Supporter
$5 Billed Monthly
paypal only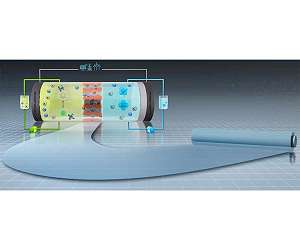 Commercial-scale flow batteries for long-duration energy storage

Dalian, China (SPX) Mar 29, 2022


Flow batteries are promising for energy storage due to their high safety, high reliability, long cycle life, and high efficiency.

The development of commercial-scale flow batteries for long-duration energy storage requires to reduce the cost of flow batteries, especially the cost of ion-exchange membranes.

Recently, a research group led by Prof. LI Xianfeng from the Dalian Institute of Chemical Physics (DICP) of the Chinese Academy of Sciences (CAS) realized pilot-scale synthesis and roll-to … read more