The inclusion of a special new perovskite layer has enabled scientists to create a "spin-polarized LED" without needing a magnetic field or extremely low temperatures, potentially clearing the path to a raft of novel technologies.


Details of the research conducted at the National Renewable Energy Laboratory (NREL) and the University of Utah appear in the journal Science.


Researchers at NREL and around the world have been investigating the use of perovskite semiconductors for solar cells that have proven to be highly efficient at converting sunlight to electricity. Since a solar cell is one of the most demanding applications of any semiconductor, scientists are discovering other uses exist as well.


"We are exploring the fundamental properties of metal-halide perovskites, which has allowed us to discover new applications, beyond photovoltaics," said Joseph Luther, a co-author of the new paper, "Chiral-induced spin selectivity enabling a room-temperature spin light-emitting diode." "Because metal-halide perovskites, and other related systems, are some of the most fascinating semiconductors, they exhibit a host of novel phenomena that can be utilized in transforming energy."


The other co-authors from NREL are Matthew Beard, a senior research fellow and director of the Center for Hybrid Organic Inorganic Semiconductors for Energy (CHOISE), Young-Hoon Kim, Yaxin Zhai, Haipeng Lu, Chuanxiao Xiao, E. Ashley Gaulding, Steven Harvey, and Joseph Berry. Valy Vardeny and Xin Pan are co-authors from Utah. All are part of CHOISE, an Energy Frontier Research Center (EFRC) funded by the Office of Science within DOE.


The goals of the CHOISE EFRC are to control the interconversion of charge, spin, and light using carefully designed chemical systems. Most opto-electronic devices in use today only control charge and light and not the spin of the electron. An electron can have either "up" or "down" spins. Using two different perovskite layers, the researchers were able to control the spin by creating a filter that blocks electrons "spinning" in the wrong direction.


One way to produce spin-polarized currents is through a "chiral-induced spin selectivity" layer, where the transport of electrons with "up" or "down" spin states depends upon the chirality of the transporting materials. Chirality refers to the materials structure where it is not identical to its mirror image. For example, a "left-handed" oriented chiral system may allow transport of electrons with "up" spins but block electrons with "down" spins and vice versa.


The filter enabled the researchers to inject spin-polarized charges into a light-emitting diode (LED) at room temperature–instead of at hundreds of degrees below zero Fahrenheit–and without the use of magnetic fields or ferromagnetic contacts that are typically needed to control the spin degree of freedom.


The LED, in response, emits light with special chiral properties, accordingly. The concept proves that using these chiral-hybrid systems gains control over spin without magnets and has "broad implications for applications such as quantum-based optical computing, bioencoding, and tomography," according to Beard.
Related Links

National Renewable Energy Laboratory

All About Solar Energy at SolarDaily.com


Thanks for being here;


We need your help. The SpaceDaily news network continues to grow but revenues have never been harder to maintain.

With the rise of Ad Blockers, and Facebook – our traditional revenue sources via quality network advertising continues to decline. And unlike so many other news sites, we don't have a paywall – with those annoying usernames and passwords.

Our news coverage takes time and effort to publish 365 days a year.

If you find our news sites informative and useful then please consider becoming a regular supporter or for now make a one off contribution.


SpaceDaily Contributor

$5 Billed Once
credit card or paypal



SpaceDaily Monthly Supporter
$5 Billed Monthly
paypal only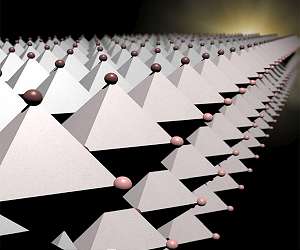 Producing highly efficient LEDs based on 2D perovskite films

Hong Kong (SPX) Mar 11, 2021


Energy-efficient light-emitting diodes (LEDs) have been used in our everyday life for many decades. But the quest for better LEDs, offering both lower costs and brighter colours, has recently drawn scientists to a material called perovskite. A recent joint-research project co-led by the scientist from City University of Hong Kong (CityU) has now developed a 2D perovskite material for the most efficient LEDs.

From household lighting to mobile phone displays, from pinpoint lighting needed for endosc … read more