New light-directed materials developed by researchers at Tufts University promise to power smart solar panels that automatically follow the sun's path across the sky.
The technology, described Friday in the journal Nature Communications, could be used to build a variety of smart light-driven systems, including sophisticated soft robots.
Engineers developed the new smart materials by combining a variety of programmable photonic crystals on a stretchy composite.
The crystals can be tuned to absorb specific frequencies of light while reflecting other frequencies, affecting the movement of thermal energy across the material.
In one layer of their composite material, researchers embedded gold nanoparticles in silk fibroin, creating a unique arrangement of photonic crystals. Researchers placed the layer on top of a substrate composed of polydimethylsiloxane, a silicon-based polymer.
Silk fibroin has a negative coefficient of thermal expansion, which means it contracts when heated and expands as it cools. When it is warmed by the sun, one side expands more quickly than the other, causing the material to bend.
"With our approach, we can pattern these opal-like films at multiple scales to design the way they absorb and reflect light," corresponding author Fiorenzo Omenetto said in a press release.
"When the light moves and the quantity of energy that's absorbed changes, the material folds and moves differently as a function of its relative position to that light," said Omenetto, a professor of engineering at Tufts.
Researchers used the new composite material to build a simple flower-like model — "photonic sunflower" — with petals that bend and twist to follow a light source as its path and angle change. The material and device don't require sophisticated fabrication techniques to create complex movements.
"We are able to achieve exquisite control of light-energy conversion and generate 'macro motion' of these materials without the need for any electricity or wires," Omenetto said.
To alter the structure of the photonic crystal in their smart material, researchers applied stencils and then exposed the layers to water vapor.
Scientists used lasers to test how the geometry of different crystal patterns influenced the material's physical response to light.
Researchers used the test results to properly arrange the bilayer petals, with integrated solar cells, so that the photonic sunflower bent and twisted to follow the laser light's sun-like arc across the lab.
They also used the new material to create a self-folding box, as well as butterfly wings that open and close in response to light.
Related Links

All About Solar Energy at SolarDaily.com


Thanks for being here;


We need your help. The SpaceDaily news network continues to grow but revenues have never been harder to maintain.

With the rise of Ad Blockers, and Facebook – our traditional revenue sources via quality network advertising continues to decline. And unlike so many other news sites, we don't have a paywall – with those annoying usernames and passwords.

Our news coverage takes time and effort to publish 365 days a year.

If you find our news sites informative and useful then please consider becoming a regular supporter or for now make a one off contribution.


SpaceDaily Contributor

$5 Billed Once
credit card or paypal



SpaceDaily Monthly Supporter
$5 Billed Monthly
paypal only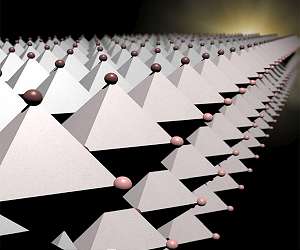 Producing highly efficient LEDs based on 2D perovskite films

Hong Kong (SPX) Mar 11, 2021


Energy-efficient light-emitting diodes (LEDs) have been used in our everyday life for many decades. But the quest for better LEDs, offering both lower costs and brighter colours, has recently drawn scientists to a material called perovskite. A recent joint-research project co-led by the scientist from City University of Hong Kong (CityU) has now developed a 2D perovskite material for the most efficient LEDs.

From household lighting to mobile phone displays, from pinpoint lighting needed for endosc … read more