A research team, affiliated with UNIST has succeeded in achieving a power conversion efficiency (PEC) of 23.50% in a perovskite-silicon tandem solar cell built with a special textured anti-reflective coating (ARC) polymeric film. According to the research team, the PCE of the device with the ARC film was sustained for 120 hours, maintaining 91% of its initial value.


This breakthrough has been led by Professor Kyoung Jin Choi and his research team in the Department of Materials Science and Engineering at UNIST, in collaboration with Professor Jung-Kun Lee and his research team from the University of Pittsburgh in the United States.


In the work, the research team systematically demonstrated that a combination of silicon dioxide (SiO2) nanoparticles and large phosphor particles can convert ultraviolet (UV) to visible light and increase total transmittance of ARC film. Their experimental and computational results also show that SiO2 nanoparticles in the ARC film decrease the reflectance by increasing the diffuse transmittance.


Moreover, the PCE of the device with the ARC film was sustained for 120 hours, maintaining 91% of its initial value, while the PCE of existing devices dropped to 90% of its initial efficiency after 5 hours, and then decreased to 50% after 20 hours. In addition, the initial efficiency of the solar cell has also increased by nearly 4.5% compared to the previous one.


"This optically engineered ARC film successfully promotes the light absorption of the perovskite/silicon tandem solar cell, leading to the improvement of power conversion efficiency of the tandem cell from 22.48% to 23.50%," noted the research team.


Research Report:Improving Light Absorption in a Perovskite/Si Tandem Solar Cell via Light Scattering and UV-Down Shifting by a Mixture of SiO2 Nanoparticles and Phosphors

Related Links

Ulsan National Institute of Science and Technology

All About Solar Energy at SolarDaily.com


Thanks for being here;


We need your help. The SpaceDaily news network continues to grow but revenues have never been harder to maintain.

With the rise of Ad Blockers, and Facebook – our traditional revenue sources via quality network advertising continues to decline. And unlike so many other news sites, we don't have a paywall – with those annoying usernames and passwords.

Our news coverage takes time and effort to publish 365 days a year.

If you find our news sites informative and useful then please consider becoming a regular supporter or for now make a one off contribution.


SpaceDaily Contributor

$5 Billed Once
credit card or paypal



SpaceDaily Monthly Supporter
$5 Billed Monthly
paypal only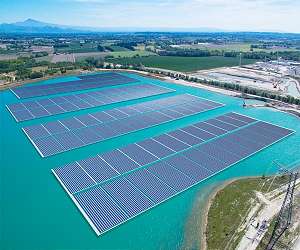 France exits fossil fuel treaty to boost renewables drive

Brussels (AFP) Oct 21, 2022


France is pulling out of a 1994 treaty that had the effect of protecting investment in fossil fuels when Europe is retooling towards a greener future, President Emmanuel Macron announced Friday.
"France has decided to withdraw from the Energy Charter Treaty," he told a news conference in Brussels after an EU summit, two days after the Netherlands made a similar announcement.
The move was done to be more "coherent" with the Paris climate accord to combat global warming by relying more heavily on … read more