To reach the target of carbon neutral, a transition from fossil energy to renewable energy generation is indispensable. Photovoltaic technology is considered as one of the most prominent sources of renewable energy. For decades, about 90% of global solar cell market has been dominated by silicon solar cells. Although the price of silicon solar panels decreases year by year, it is a big challenge to significantly reduce its manufacturing cost further.


Hence, next-generation photovoltaic technologies are in urgent need of new materials and novel techniques. Recently, metal halide perovskite solar cells (PSCs) have attracted extensive attention from both academia and industry, due to their excellent photoelectric conversion efficiency and great commercial potential.


Metal halide perovskite materials can be easily synthesized in solution at low-temperature and deposited into thin-film through a variety of printing method. Recently, many reviews have been published on the topic of perovskite film deposition techniques/mechanisms, such as solvent engineering and additives-engineering, whereas discussions about ink engineering for printing high-quality perovskite films as well as other function layers are few.


In this article, the authors provide a systematical overview of applicable printing technologies that can be possibly used for scaling-up PSCs. The authors consider the ink engineering is the key issue to achieve high quality thin films for efficient solar cells. Therefore, they mainly focus on the perspective of perovskite precursor ink formula and additives on controlling the film formation process.


They analyze the potential physical and chemical mechanisms of the nucleation and crystallization process during the printing. For the additives in the printing of PSCs, the authors discuss the effect of additives for the film formation process, the microstructure and defect population.


Moreover, they also present the technical feasibility of printing the other layers besides perovskite layers, including hole transporting layers (HTL) and electron transporting layers (ETL), which might enable a rapid and mass production of PSCs.


Finally, they introduce the recent progress of roll-to-roll (R2R) printing and the stability issues of perovskite modules, and give a prospect of mass production of perovskite solar modules in the near future.


Research Report: "Pringting strategies for scaling up perovskite solar cells"

Related Links

Wuhan University of Technology

All About Solar Energy at SolarDaily.com


Thanks for being here;


We need your help. The SpaceDaily news network continues to grow but revenues have never been harder to maintain.

With the rise of Ad Blockers, and Facebook – our traditional revenue sources via quality network advertising continues to decline. And unlike so many other news sites, we don't have a paywall – with those annoying usernames and passwords.

Our news coverage takes time and effort to publish 365 days a year.

If you find our news sites informative and useful then please consider becoming a regular supporter or for now make a one off contribution.


SpaceDaily Contributor

$5 Billed Once
credit card or paypal



SpaceDaily Monthly Supporter
$5 Billed Monthly
paypal only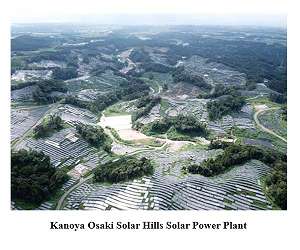 Japan ups 2030 renewables goal in draft energy policy

Tokyo (AFP) July 21, 2021


Japan aims to hike its 2030 renewable energy target as part of efforts to slash emissions, according to draft documents released Wednesday, but activists described the planned goal as "disappointing".
The blueprint of the nation's energy policy sets a higher target of 36-38 percent of power supplies coming from renewable sources such as solar and wind by fiscal 2030 – up from the current goal of 22-24 percent.
Major firms including Sony, Panasonic and Nissan had in January called for the govern … read more