Rocket Lab USA, Inc. (Nasdaq: RKLB) has delivered the final solar panels to Maxar that will fly on the Power and Propulsion Element (PPE) for NASA's Gateway lunar space station. SolAero Technologies Inc, a leading space solar power provider acquired by Rocket Lab, was awarded the contract in 2019 from Maxar to design and manufacture the solar panels that will supply nearly 70 kilowatts of electrical power to Gateway, an essential element of NASA's Artemis missions that will land the first woman and first person of color on the surface of the Moon.


Gateway is an international collaboration to establish humanity's first space station in lunar orbit supporting sustained crewed and uncrewed deep space exploration and research, and helping pave the way to Mars.


The orbiting outpost will include docking ports for a variety of spacecraft, space for crew to live and work, and on-board science investigations to study heliophysics, human health, and life sciences. The PPE is a high-power, solar electric propulsion spacecraft that will provide power, high-rate communications, altitude control, and orbital transfer capabilities.


The solar panels incorporate Rocket Lab's quadruple-junction "Z4J" solar cells and utilize automated assembly methods pioneered by the Company's Albuquerque-based team for high-volume production of satellite solar panels.


The Z4J solar cells exhibit 30.0% minimum average conversion efficiency at beginning-of-life (BOL) and superior radiation hardness and temperature performance when compared to other Germanium-based solar cells.


"We are proud to have delivered the final modules to our partners at Maxar for assembly of the Roll Out Solar Array by Deployable Space Systems," said Brad Clevenger, Rocket Lab's Vice President and General Manager, Space Systems Power Solutions. "It is an honor for us to be providing such a critical component to Gateway and be part of humanity's first space station in lunar orbit."


"The delivery of these solar modules is another feather in our cap to support the Artemis program," said Peter Beck, Rocket Lab founder and CEO.


"In addition to being an integral part of powering the Power and Propulsion Element, Rocket Lab will also provide the power to the Orion spacecraft that will carry astronauts from Earth to lunar orbit, and this comes off the back of our recent successful launch of the CAPSTONE spacecraft, a pathfinder satellite for NASA that is designed to test the same orbit intended for Gateway."
Related Links

SolAero Technologies
Rocket Lab

All About Solar Energy at SolarDaily.com


Thanks for being here;


We need your help. The SpaceDaily news network continues to grow but revenues have never been harder to maintain.

With the rise of Ad Blockers, and Facebook – our traditional revenue sources via quality network advertising continues to decline. And unlike so many other news sites, we don't have a paywall – with those annoying usernames and passwords.

Our news coverage takes time and effort to publish 365 days a year.

If you find our news sites informative and useful then please consider becoming a regular supporter or for now make a one off contribution.


SpaceDaily Contributor

$5 Billed Once
credit card or paypal



SpaceDaily Monthly Supporter
$5 Billed Monthly
paypal only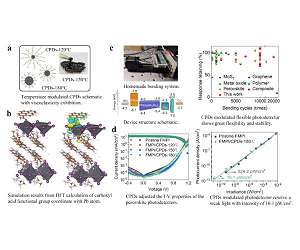 Carbonized polymer dots enhanced stability and flexibility of quasi-2D perovskite photodetector

Changchun, China (SPX) Oct 27, 2022


High-performance photodetectors with great detection capability have been widely deployed in our daily life, such as driverless technology, intraoperative navigated surgery, face recognition, anti-counterfeiting, and so on. However, we still face challenges as new demands are required for additional functions like excellent flexibility with no sensitivity/stability loss. Therefore, novel photosensitive materials or multi-functional composites are needed to meet the fast technology development.

In … read more