The best solar cells currently capture just more than a quarter of the sun's energy. Much of sun's power potential remains untapped.
For decades, scientists have been trying to expand the efficiency limit of both perovskite and silicon solar cells.
Scientists at Oxford PV, a perovskite research firm in Britain, found they could beat the current efficiency barrier by combining the two technologies.
Perovskite is a calcium titanium oxide mineral with valuable optoelectronic properties.
The new solar cell — detailed Tuesday in the journal Applied Physics Letters — marries metal halide perovskites with traditional silicon photovoltaic cells.
"We identified perovskites as the perfect partner for a tandem system with silicon," study author Laura Miranda Pérez, head of materials research at Oxford PV, said in a press release.
Because the manufacturing technologies for perovskites are already developed, the material was ideal "plug-and-play" add-on. To build the new cell, scientists deposited a layer of metal halide perovskites directly onto a simple silicon cell.
"We're proving the potential of perovskite-on-silicon tandem technology through the continuous achievement of world-record efficiencies, with our current record at 29.52 percent," Miranda Pérez said.
After seven years of trials and tweaks, researchers at Oxford PV are ready to begin mass commercial production of their new perovskite-silicon solar cell technology.
"We want to help people understand the huge potential of perovskite-on-silicon tandem technology to boost the efficiency of solar installations and to help the world reach the goal of providing sustainable energy for all," Miranda Pérez said.
Related Links

All About Solar Energy at SolarDaily.com


Thanks for being here;


We need your help. The SpaceDaily news network continues to grow but revenues have never been harder to maintain.

With the rise of Ad Blockers, and Facebook – our traditional revenue sources via quality network advertising continues to decline. And unlike so many other news sites, we don't have a paywall – with those annoying usernames and passwords.

Our news coverage takes time and effort to publish 365 days a year.

If you find our news sites informative and useful then please consider becoming a regular supporter or for now make a one off contribution.


SpaceDaily Contributor

$5 Billed Once
credit card or paypal



SpaceDaily Monthly Supporter
$5 Billed Monthly
paypal only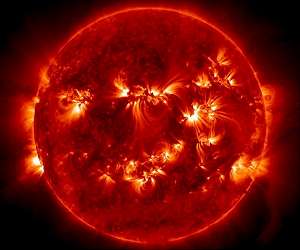 Harnessing sunlight to fuel the future through covalent organic frameworks

Solan, India (SPX) Aug 16, 2021


Be it rising fuel prices or failures in electricity power grids, the consequences of global energy crisis are hard to ignore. The need for alternate fuel sources is greater than ever, but, despite the popularity of solar panels, a vast amount of solar energy goes untapped. Now, a multinational team of researchers explore existing research on covalent organic frameworks (COFs), a new class of light-absorbing compounds, as a potential solution for efficient solar-driven fuel production.

Photocatalys … read more