Cranfield University will join 19 research partners spread through 12 countries to develop a first-of-a-kind plant which couples concentrated solar power (CSP) and desalination techniques.


The 10M euro European Union's Horizon 2020 funded research and innovation programme will last 4 years. Innovative technologies related to both CSP and desalination will be designed to improve the efficiency of existing concepts. Improvements will be made on the independent systems but also on their coupling, taking advantage from the mutual interaction and potential.


Cranfield University is the only UK partner, and they are building on a long-standing reputation in CSP, the grant is worth 799k euro to them over 4 years.


Chris Sansom, Cranfield's Professor of CSP and Head of Centre for Renewable Energy Systems, said: "Generating environmentally-safe and sustainable sources of both power and fresh water is a challenge for many countries. The final demonstration system will be a 2 MWel power plant built in Saudi Arabia bringing together two promising technologies associated for the first time to reach unprecedented efficiencies. For Cranfield, it is further recognition of our research capabilities in both CSP and Water Sciences."


The DESOLINATION project focuses on the Gulf Cooperation Council (GCC) region to test and deploy its technology. A first prototype will be built on the premises of King Saud University in Riyadh, Saudi Arabia.


With high solar resources and high demand for desalinated water, it is expected that the prototype will provide low-cost renewable electricity (

Carbon dioxide blends will be the core of the innovation in the concentrated solar process, leading to more efficient and less expensive power cycle. With water, forward osmosis will be developed and linked to membrane distillation using the wasted heat from the power cycle to generate freshwater. Finally, a unique combination of the power and water cycles will allow the disruptive coupled system to work at high waste-heat-to-freshwater conversion efficiency.


The final system will also benefit from a substantial reduction of CO2 emissions compared to traditional desalination systems.
Related Links

Cranfield University

All About Solar Energy at SolarDaily.com


Thanks for being here;


We need your help. The SpaceDaily news network continues to grow but revenues have never been harder to maintain.

With the rise of Ad Blockers, and Facebook – our traditional revenue sources via quality network advertising continues to decline. And unlike so many other news sites, we don't have a paywall – with those annoying usernames and passwords.

Our news coverage takes time and effort to publish 365 days a year.

If you find our news sites informative and useful then please consider becoming a regular supporter or for now make a one off contribution.


SpaceDaily Contributor

$5 Billed Once
credit card or paypal



SpaceDaily Monthly Supporter
$5 Billed Monthly
paypal only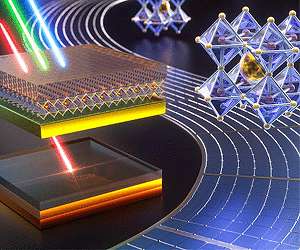 Surrey researchers working to find suitable solvents for perovskite inks

Guildford UK (SPX) Jul 28, 2021


Perovskite solar cells have gained attention in recent years because of their ability to deliver high photovoltaic performance under a low-cost and low-temperature solution-based fabrication processing, which allows materials to be dissolved in suitable solvents to produce inks.

Perovskites are a family of materials with a specific three-dimensional lattice crystal structure named after a naturally occurring mineral. Despite the remarkable growth in the power conversion efficiency of the perovskit … read more