Are you in the market for a solar power bank? If so, you may be wondering which one is the best option for you. There are a lot of different solar power banks available on the market, and it can be difficult to determine which one is right for your needs. In this guide, we will provide you with information on what to look for when purchasing a solar power bank. Let's get started!


Factors to Keep in Mind When Buying a Solar Power Bank

Different brands have different capabilities. All of them would sell themselves at the best product out there. In simple words, a product is best only when it matches all your requirements and constraints.


Following are some of the essential pointers of features to keep in mind before finalising your dream product:


Battery Capacity

Battery capacity is the value written on your power bank that ends with mAh. It shows the power that can be obtained from a solar power bank.


The higher the value of mAh, the greater the power and charge from the solar power bank.


You should choose a solar power bank based on the battery capacity according to your intended use and usage.


The time required to charge the battery with solar power completely.


Solar power banks are usually bought, keeping in mind the solar charging capacity of the product. But the twist is that the time will vary according to brands.


Some options could even take days to make the power bank reach its complete charging. It is generally suggested to go for a power bank that charges pretty efficiently through the solar panel.


Weight and Size

This is an essential factor, more so for travel purposes. You must buy solar power banks that are comparatively easy to move around and have a relatively portable design.


You should also try to have as lightweight a power bank as possible. Easy to pack things always turn out to be more helpful.


Durability

Wouldn't you want to buy high quality and durable power bank? Well, that would be a yes! This is again essential if your power bank will be on long trips with you.


You should buy a solar power ban which is shockproof, dustproof and waterproof. The housing should be sturdy and have a good waterproof rating in your product.


Some of these abilities are responsible for providing a long-lasting buy and the top value for the hard-earned money you spend.


Extra Features

You must keep an eye on any extra benefits or features available with the product. Some of the additional inbuilt features are pretty great. These could be LED flashlights, a portable compass or even an extra wire.


Flashlights particularly are somewhat helpful to most users. Although these features should be your make or break factors, it is great to have some multifunctional tools.


Customer Service

We all have been victims of lousy customer service. And that is precisely why we wouldn't want that for you! Good customer support goes a long way. You should go through reviews and notice the customer service options given by the brand.


This is more essential if you want to avoid any stress or hassle! Having reliable customer service is most definitely going to relax you.


Cost

The cost is a very defining factor of the product's quality. On a general note, the most high-quality brand will have a higher price. So, try not to be fooled by extra cheap prices. Those products might even stop working post some time.


Try to find less expensive options only if you have budgetary concerns. You must ensure that these affordable options have at least some relevant features that would be helpful for you.


How do Solar Power Banks Work?

Solar Power Banks have gained immense popularity over the last few years. Why wouldn't they? They are renewable, eco-friendly, and, on top of it, have an off the grid power source.


It is just like having an unlimited source of energy. But the question arises how does the solar power bank work?


The solar power bank has a core component called the solar panel. Different solar power banks have different types of solar panels. They could be single or double as well.


Some might even have four foldable solar panels. All these solar panels help in the absorption of the sun rays, which is then converted into electric current.


The panel consists of photovoltaic cells, which convert the sunlight to electricity. As the sun rays hit the solar panel, the radiation touched the photovoltaic cells and thus, the electrons started moving around the cell.


This creates a current flow!

The current produced is stored in the rechargeable battery, generally made of lithium-ion. Once the power is stored, the solar power bank can easily power all your electronic devices.


You can also charge the solar power bank via your wall outlet. Because of this dual capability, solar power banks are quickly winning hearts all over the globe.


After How Long Would the Best Quality Solar Power Bank Charge My Electronic Devices?

Solar power banks can take up to many hours to charge in the sun rays. This number is around 30 to 35 hours using the sun's energy. There are many factors behind the charging capacity of different solar power banks.


Battery conversion rate is one of the most prominent factors responsible for this. Generally, the conversion rate falls massively post the solar bank, achieving a charge of over 50%.


You can use an adaptor to charge the solar power bank quickly, though!


What Are the Advantages of a Solar Power Bank?

Using solar power banks is the all-new craze, and we are all sold. Let's see the two top advantages of solar-powered battery chargers and why there is so much buzz around this commodity.


Environment friendly

The main reason behind people opting for solar power banks is that they are eco-friendly and do not cause harm to the environment.


Perfect for travelling and Portable

The limited design and small size of solar power banks is a real winner. You can carry it anywhere, and it can easily become your travel buddy.


Wrapping Up

With these factors, we come to the end of the article. Now, we hope you are clear with the best product out of the top picks according to your requirements. This list has been prepared after enough research and testing so that you can trust it!


If you are still confused, we would strongly recommend choosing the final pick after going through the buying guide. With knowing the essential features to watch out for, you will be able to make a decision that will be profitable in the long run. All the best!
Related Links

Best Solar Power Banks

All About Solar Energy at SolarDaily.com


Thanks for being here;


We need your help. The SpaceDaily news network continues to grow but revenues have never been harder to maintain.

With the rise of Ad Blockers, and Facebook – our traditional revenue sources via quality network advertising continues to decline. And unlike so many other news sites, we don't have a paywall – with those annoying usernames and passwords.

Our news coverage takes time and effort to publish 365 days a year.

If you find our news sites informative and useful then please consider becoming a regular supporter or for now make a one off contribution.


SpaceDaily Contributor

$5 Billed Once
credit card or paypal



SpaceDaily Monthly Supporter
$5 Billed Monthly
paypal only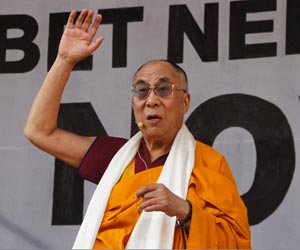 Dalai Lama urges move to renewable energy to combat climate crisis

New Delhi (AFP) April 23, 2022


Tibetan spiritual leader the Dalai Lama urged the public to reduce fossil fuel use during a meeting with activists to mark Earth Day, warning that the climate change crisis transcends national boundaries.
The 86-year-old – who is now living in exile in India's Dharamshala – was presented Friday with a block of ice carved from one of the fast-melting glaciers in India's Himalayan Ladakh region.
Mounted on a wooden stand, the hunk of ice was meant to highlight the effects of climate change on th … read more