Trina Solar says it is continuing to drive collaboration across the entire value chain to achieve full compatibility with Vertex 210mm silicon wafer modules, designed to enable 600W+ output. Since the launch of Vertex modules a year ago, the range of 210 Vertex compatible solar PV system components continues to expand. Numerous market tests have been completed with compatibility approvals from leading solar inverter and tracker manufacturers, enabling the upgrade in power.


In the race towards a climate-neutral economy in Europe, as set out in the EU Green Deal, Ultra High-Power solar energy systems play a vital role. The market is maturing fast, with Trina Solar at the forefront of production and open, collaborative innovation across the industry chain.


Trina Solar's creation of three new 210 Vertex super factories in 2020 secures consistent product supply, projected to reach over 50GW globally at the end of 2021. This brings new-found confidence in high-energy solutions to the solar market, and more importantly, strengthens the value proposition of solar energy across utility sector.


The 600W+ Photovoltaic Open Innovation Ecological Alliance

One of Trina Solar's first initiatives after launching 210mm technology helped to bring together influential solar companies and pledge a commitment to drive ultra-high power capabilities in the industry. The 600W+ Photovoltaic Open Innovation Ecological Alliance, announced in July 2020, is now made up of 66 companies spanning the industry in Europe and globally, across silicon, wafers, batteries, modules, inverters, tracker systems, materials, EPC, design institutes, professional research institutions and owners.


This Alliance aims to create a new collaborative and innovative ecosystem through open collaboration, synergizing the industry chain's primary resources and integrating core processes such as R and D, manufacturing, and applications.


Member companies adopted a declaration stating they will work together to build products, systems, and standards for a next-generation technology platform, committing to maximizing the customer values of 600W+ Ultra-High Power modules and other related solutions at the application end.


Driving value in the Ultra-High Power Industry chain

Prior to March 2021, leading brands such as Huawei, Sungrow, SMA and Sineng announced the availability or launch timeline of 210 Vertex compatible central and string inverters.


We have also seen eight of the world's leading photovoltaic tracker makers, Arctech Solar, Array Technologies, GameChange Solar, IDEEMATEC, Nextracker, PVH, Soltec, TrinaTracker, successively issue compatibility approvals for 210 Vertex modules.


These continuous compatibility advances with inverters, trackers and 210 modules raise the total system value and reduce costs in various scenarios. Specifically, low-voltage, high-current Vertex modules can realize a longer string, thereby reducing the number of strings, leading to reduction of BOS components, land and labor used, lowering overall EPC cost and LCOE, highlighting the power generation gain and cost advantages of ultra-high power modules.


An independent DNV GL assessment published in December 2020 calculated significant system advantages of Trina Solar's bifacial dual-glass 210 Vertex modules. The report showed a reduction of BOS by 6.2% compared with conventional 166mm-450W and 182mm-535W modules in terms of BOS costs and LCOE by 3.72%.


This proactivity within the industry is paying off, demonstrating smooth chain collaboration and proven LCOE reductions, accelerating the entering grid parity era.
Related Links

Trina Solar

All About Solar Energy at SolarDaily.com


Thanks for being here;


We need your help. The SpaceDaily news network continues to grow but revenues have never been harder to maintain.

With the rise of Ad Blockers, and Facebook – our traditional revenue sources via quality network advertising continues to decline. And unlike so many other news sites, we don't have a paywall – with those annoying usernames and passwords.

Our news coverage takes time and effort to publish 365 days a year.

If you find our news sites informative and useful then please consider becoming a regular supporter or for now make a one off contribution.


SpaceDaily Contributor

$5 Billed Once
credit card or paypal



SpaceDaily Monthly Supporter
$5 Billed Monthly
paypal only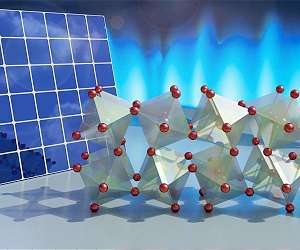 Twisting, flexible crystals key to solar energy production

Durham NC (SPX) Mar 17, 2021


Researchers at Duke University have revealed long-hidden molecular dynamics that provide desirable properties for solar energy and heat energy applications to an exciting class of materials called halide perovskites.

A key contributor to how these materials create and transport electricity literally hinges on the way their atomic lattice twists and turns in a hinge-like fashion. The results will help materials scientists in their quest to tailor the chemical recipes of these materials for a wide r … read more