This study was led by Prof. Rui Zhu, Prof. Wei Wang and Prof. Qihuang Gong from Peking University. In this work, 3-um-thick commercially available parylene-C was deposited on the top of pre-cleaned glass via chemical vapor deposition (CVD) and then the flip-over transferring (FOT) process was employed to ensure a smooth parylene surface.


210-nm-thick Zr, Ti and Ga-doped indium oxide (ITGZO) was sputtered on parylene as transparent conducting oxide (TCO) electrodes, and inverted FPSCs were then accomplished (see Figure. 1 attached). Devices on glasses and parylene-F (i.e., parylene-VT4) substrates were also constructed to verify the advantages of parylene-C.


Scanning electron microscopy (SEM) with both top and cross-sectional views was performed to study the morphology difference among perovskite films grown on parylene-F, parylene-C and glass-based substrate.


The perovskite films on parylene-F exhibited poor film coverage with several pinholes on the film surface and showed interfacial voids at embedded bottom interfaces which would lead to charge accumulation and induce the loss of device performance (see a and d of Figure. 2 attached).


For perovskite films prepared on parylene-C, better film uniformity same as glass-based films was obtained as evidenced by the disappearance of surficial pinholes and interfacial voids (see b and e of Figure. 2 attached).


The ultrathin parylene-C based FPSC achieved a remarkable PCE of 20.2% (see g-h of Figure. 2 attached), which was comparable to that based on FPSCs of common thickness. Due to the high PCE and light device weight of 6.67 g/m2 on parylene-C substrates, an outstanding power-per-weight of 30.3 W/g was realized (see Figure. 2i attached), indicating the great promise of fabricating efficient, ultrathin and ultralight solar cells with parylene-C films.


Research Report:Ultralight Flexible Perovskite Solar Cells

Related Links

Peking University

All About Solar Energy at SolarDaily.com


Thanks for being here;


We need your help. The SpaceDaily news network continues to grow but revenues have never been harder to maintain.

With the rise of Ad Blockers, and Facebook – our traditional revenue sources via quality network advertising continues to decline. And unlike so many other news sites, we don't have a paywall – with those annoying usernames and passwords.

Our news coverage takes time and effort to publish 365 days a year.

If you find our news sites informative and useful then please consider becoming a regular supporter or for now make a one off contribution.


SpaceDaily Contributor

$5 Billed Once
credit card or paypal



SpaceDaily Monthly Supporter
$5 Billed Monthly
paypal only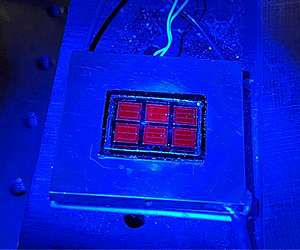 NREL creates highest efficiency 1-sun solar cell

Golden CO (SPX) May 27, 2022


Researchers at the U.S. Department of Energy's National Renewable Energy Laboratory (NREL) created a solar cell with a record 39.5% efficiency under 1-sun global illumination. This is the highest efficiency solar cell of any type, measured using standard 1-sun conditions.

"The new cell is more efficient and has a simpler design that may be useful for a variety of new applications, such as highly area-constrained applications or low-radiation space applications," said Myles Steiner, a senior scient … read more