Recently, a research team led by Prof. CHEN Tao from the University of Science and Technology of China (USTC) of the Chinese Academy of Sciences (CAS) revealed the formation and evolution of the point defect of antimony selenosulfide. This work was published in Advanced Materials.


Antimony selenosulfide, i.e., Sb2(S,Se)3, features great stability, no inclusion of rare or toxic elements, excellent photovoltaic property, and low cost, which make it an ideal photovoltaic material. Due to the quasi-one-dimensional structure and high extinction coefficient of the material, it has unique advantages in fields such as ultralight devices, portable power sources, or building-integrated photovoltaics.


To improve the performance of devices, it is necessary to understand the basic properties of this new photovoltaic material.. The research team focused on the point defect of antimony selenosulfide. They utilized optical deep-level transient spectroscopy (O-DLTS) to detect the characteristics of the defect of antimony selenosulfide driven by temperature. Researchers then investigated the variation of the material composition during annealing to reveal the formation and evolution of the point defect.


The initial hydrothermal deposition results in the formation of point defects with high formation energy, which was the result of random deposition of ions driven in hydrothermal condition, according to the researchers. Post-annealing and the thin-film crystalization led to the loss of sulfur and selenium anions as well as the formation vacancy defect (VS(e)). Since the formation energy of cation/anion inversion defects is relatively low, antimony ions would transfer and fill anion vacancies, eventually forming the SbS(e) inversion defect.


The study deepens the understanding of the formation and evolution of point defects of antimony selenosulfide and offers a new method to study such processes. It also provides a guidance for designing methods to produce films and inhibiting the formation of deep-level point defects.


Research Report:Thermally Driven Point Defect Transformation in Antimony Selenosulfide Photovoltaic Materials

Related Links

University of Science and Technology of China

All About Solar Energy at SolarDaily.com


Thanks for being here;


We need your help. The SpaceDaily news network continues to grow but revenues have never been harder to maintain.

With the rise of Ad Blockers, and Facebook – our traditional revenue sources via quality network advertising continues to decline. And unlike so many other news sites, we don't have a paywall – with those annoying usernames and passwords.

Our news coverage takes time and effort to publish 365 days a year.

If you find our news sites informative and useful then please consider becoming a regular supporter or for now make a one off contribution.


SpaceDaily Contributor

$5 Billed Once
credit card or paypal



SpaceDaily Monthly Supporter
$5 Billed Monthly
paypal only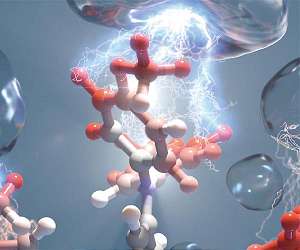 Polymer p-doping improves perovskite solar cell stability

Lausanne, Switzerland (SPX) Jan 20, 2023


Perovskite solar cells have drawn a significant amount of research attention as a promising alternative to conventional silicon-based solar cells, due to their efficiency in converting sunlight into electricity. Perovskite solar cells are a hybrid of organic and inorganic materials and consist of a light-harvesting layer and a charge-transporting layer.

However, stability issues have hindered the commercialization and widespread use of PSCs, and achieving operational stability has become a rallyin … read more