Using a hematite (*1) photocatalyst (*2), a joint research team has succeeded in producing both hydrogen gas and hydrogen peroxide (*3) at the same time from sunlight and water. The team included the following members from Kobe University: Associate Professor TACHIKAWA Takashi, Professor TENNO Seiichiro and Associate Professor TSUCHIMOCHI Takashi et al.


In the quest to make a carbon neutral society a reality, CO2-free hydrogen production using sunlight energy has gained attention. If chemical products with applications in the health and food industries could be produced at the same time as hydrogen through photocatalyst-mediated solar water-splitting, it would be possible to develop a solar water-splitting utilization system with even greater added value.


Hematite mesocrystals (*4) can absorb a wide range of visible light. In this study, Associate Professor Tachikawa et al. found that by preparing electrodes with mesocrystals doped (*5) with two different metal ions, it was possible to safely, cheaply and stably produce hydrogen peroxide as well as hydrogen. Hydrogen peroxide is used for many purposes including disinfecting, bleaching and soil improvement.


The research group's next aim is to implement this technology. While continuing to improve the high efficiency of the developed photocatalyst electrode, they will try to assemble the cells into a compact module as a step towards societal implementation. They also plan to develop this mesocrystal technology with various materials and reaction systems.


This was a joint research project with Nagoya University's Institute of Materials and Systems for Sustainability (Professor MUTO Shunsuke) and the Japan Synchrotron Radiation Research Institute (JASRI) (Chief Researcher OHARA Koji and Researcher INA Toshiaki).


The results were given advanced online publication in Nature Communications (Nature Publishing Group) on March 23, 2022.


Research Report:Binary dopant segregation enables hematite-based heterostructures for highly efficient solar H2O2 synthesis

Related Links

Kobe University

All About Solar Energy at SolarDaily.com


Thanks for being here;


We need your help. The SpaceDaily news network continues to grow but revenues have never been harder to maintain.

With the rise of Ad Blockers, and Facebook – our traditional revenue sources via quality network advertising continues to decline. And unlike so many other news sites, we don't have a paywall – with those annoying usernames and passwords.

Our news coverage takes time and effort to publish 365 days a year.

If you find our news sites informative and useful then please consider becoming a regular supporter or for now make a one off contribution.


SpaceDaily Contributor

$5 Billed Once
credit card or paypal



SpaceDaily Monthly Supporter
$5 Billed Monthly
paypal only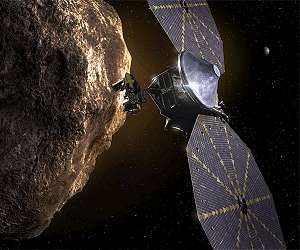 Lucy is "Go" for solar array deployment attempt

Washington DC (SPX) Apr 25, 2022


On April 18, NASA decided to move forward with plans to complete the deployment of the Lucy spacecraft's stalled, unlatched solar array. The spacecraft is powered by two large arrays of solar cells that were designed to unfold and latch into place after launch. One of the fan-like arrays opened as planned, but the other stopped just short of completing this operation.

Through a combination of rigorous in-flight solar array characterization and ground testing, Lucy engineers determined the unlatche … read more