The technology group Wartsila's unique experience in delivering both power barges for electricity production and state-of-the-art energy storage solutions has resulted in a combined contract award. Therma Marine Inc. (TMI), a subsidiary of Aboitiz Power Corporation, one of the Philippines' leading companies involved in power generation, distribution, and retail electricity services, has ordered a barge-mounted 54 MW / 32 MWh energy storage system to be delivered by Wartsila on an engineering, procurement, and construction (EPC) basis.


The Wartsila barge will be placed next to TMI's existing thermal power barge of a total of 100 MW in the municipality of Maco in the province of Davao de Oro. The order was placed in September 2020. The project will be handled on a fast-track basis, with delivery scheduled to be completed in Q4 2021.


This will be the first ever deployment of a floating energy storage solution in the South East Asia region. It will involve placing ten Wartsila GridSolv Max systems, supported by the company's advanced GEMS energy management platform , aboard a floating barge. The solution will provide flexibility for TMI in their ancillary service contract with the National Grid Corporation of the Philippines.


"Wartsila will meet our urgent needs with this innovative and unique floating energy storage barge. Their ability to deliver this first-of-a-kind solution in less than 12 months is, to say the least, impressive," commented Emmanuel V. Rubio, Aboitiz Power President and Chief Executive Officer.


"In addition to meeting TMI's needs, it is important to note that Wartsila is the sole EPC provider for this kind of a project. The alternative would be to have one supplier for the barge and another for the energy storage system, which would require a lot of coordination and would undoubtedly slow the final delivery considerably," added Kari Punnonen, Wartsila Energy Business Director, Australasia.


Wartsila's GridSolv Max is an advanced energy storage solution that is designed for streamlined installation and integration, significantly increasing energy density and system reliability to meet customer energy needs while also adequately future-proofing their hardware assets. The innovative and standardised architecture supports both stand-alone energy storage deployments as well as integrated hybrids with thermal or renewable generation assets.


GEMS has become the most-used energy storage software and integration platform, operating globally in over 70 systems. GEMS offers the widest selection of use-case applications and can manage, integrate and synchronise any complex composition of energy assets, including wind, solar, thermal and storage.


The number of Wartsila power barge installations globally is 26, with a total power output of 1,500 MW. A floating power barge enables fast supply of electricity to areas with limited infrastructure and is a mobile asset, enabling relocation or trade.


Wartsila has a strong presence in South East Asia, with a total installed capacity of more than 9,000 MW, of which 2,000 MW were executed as EPC deliveries, including approximately 300 MW of energy storage.
Related Links

Gridsolv Max

Powering The World in the 21st Century at Energy-Daily.com


Thanks for being here;


We need your help. The SpaceDaily news network continues to grow but revenues have never been harder to maintain.

With the rise of Ad Blockers, and Facebook – our traditional revenue sources via quality network advertising continues to decline. And unlike so many other news sites, we don't have a paywall – with those annoying usernames and passwords.

Our news coverage takes time and effort to publish 365 days a year.

If you find our news sites informative and useful then please consider becoming a regular supporter or for now make a one off contribution.


SpaceDaily Contributor

$5 Billed Once
credit card or paypal



SpaceDaily Monthly Supporter
$5 Billed Monthly
paypal only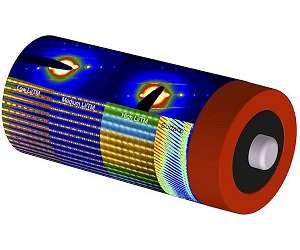 Finding key to low-cost, fast production of solid-state batteries for EVs

Atlanta GA (SPX) Mar 09, 2021


A new fabrication technique could allow solid-state automotive lithium-ion batteries to adopt nonflammable ceramic electrolytes using the same production processes as in batteries made with conventional liquid electrolytes.

The melt-infiltration technology developed by materials science researchers at the Georgia Institute of Technology uses electrolyte materials that can be infiltrated into porous yet densely packed, thermally stable electrodes.

The one-step process produces high-density co … read more