The head of the IMF warned Friday that Western subsidies to combat climate change and encourage the transition to clean energy sources risked hitting the economies of the developing world.


The United States under President Joe Biden has passed the Inflation Reduction Act (IRA) which contains sweeping subsidies and tax cuts worth around $370 billion for reducing greenhouse gas emissions, making it the largest-ever US programme to combat climate change.


The European Union is considering responding in kind amid fears that the IRA will encourage businesses to move factories and production to the United States at a time when it is trying to strengthen its industrial base.


"My biggest concern is that something that in principle is very good to accelerate the transition to the green economy by using public money to step up private investment… may not serve well the emerging markets and the developing world," IMF head Kristalina Georgieva said at the World Economic Forum in Davos, Switzerland.


She warned that subsidies needed to be accompanied by technology transfers from the rich world to emerging countries.


"If we are to strive to get the industrialised world clean and we don't think about the emerging markets, we are all cooked," she said.


Speaking alongside Georgieva, French Economy Minister Bruno Le Maire defended government backing for efforts to accelerate the transition away from fossil fuels.


"The key question is not 'China first' or 'America first', or 'Europe first': the key question is climate first," he told the audience.


Also speaking in Davos on Tuesday, EU Commission chief Ursula von der Leyen announced plans for a "sovereignty fund" and a "Net Zero Industry Act" to defend Europe's industrial base from US and Chinese industrial subsidies.


Von der Leyen said she saw "aggressive attempts to attract our industrial capacities away to China and elsewhere."


She said the EU had been "working with our US friends to find solutions" to the risk of US subsidies distorting transatlantic trade.


US climate envoy John Kerry argued that countries complaining about the act should instead try to imitate the United States — even though this would not be possible for emerging countries with smaller government budgets.


"The reaction of other countries shouldn't be, 'oh my god, you shouldn't be doing that, that's putting us in an unfair position'. Do it, too. Everybody's got to do the same thing to accelerate this process even more," Kerry told a panel discussion in Davos on Tuesday.
Related Links

All About Solar Energy at SolarDaily.com


Thanks for being here;


We need your help. The SpaceDaily news network continues to grow but revenues have never been harder to maintain.

With the rise of Ad Blockers, and Facebook – our traditional revenue sources via quality network advertising continues to decline. And unlike so many other news sites, we don't have a paywall – with those annoying usernames and passwords.

Our news coverage takes time and effort to publish 365 days a year.

If you find our news sites informative and useful then please consider becoming a regular supporter or for now make a one off contribution.


SpaceDaily Contributor

$5 Billed Once
credit card or paypal



SpaceDaily Monthly Supporter
$5 Billed Monthly
paypal only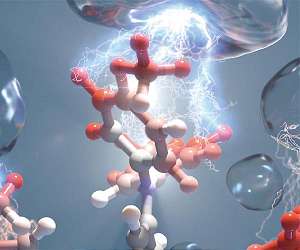 Polymer p-doping improves perovskite solar cell stability

Lausanne, Switzerland (SPX) Jan 20, 2023


Perovskite solar cells have drawn a significant amount of research attention as a promising alternative to conventional silicon-based solar cells, due to their efficiency in converting sunlight into electricity. Perovskite solar cells are a hybrid of organic and inorganic materials and consist of a light-harvesting layer and a charge-transporting layer.

However, stability issues have hindered the commercialization and widespread use of PSCs, and achieving operational stability has become a rallyin … read more